EXCELLENCE IN HOSPITALITY
Cruise Port Amsterdam is your entry to the world class tourist destination and capital of the Netherlands: Amsterdam. Our unique terminal on the river IJ is just a stroll away from the historic Amsterdam City Center. Ideal for the independent traveler who can start exploring the city by foot. As well as strategically positioned to start an excursion to visit the famous Dutch highlights.
Only a twenty minute drive away from Schiphol airport and surrounded by various hotels, Cruise Port Amsterdam is an excellent turn around port.
TERMINAL ACCESSIBILITY
The terminal of Cruise Port Amsterdam is easily accessible by car, tram, train and boat. The terminal is located at the center of Amsterdam, within 20 minutes walking you are on the Dam. Excellent for a visit to the historic city center.
News

Despite some news reports, we will stay open, with cruiseships continuing to call as per the schedule.The current situation has no influence on the already booked calls at our port or on booked events in the terminal.On July 20, the…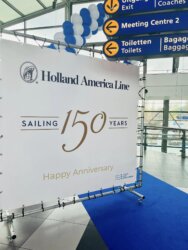 Last week Holland America Line's 150th anniversary was celebrated in a big way in Rotterdam.At Cruise Port Amsterdam the ship Zuiderdam was docked and we did our best to decorate the terminal festively for them. For more information about the…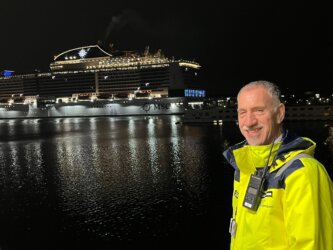 to our newest addition Charles Hoogers, he joins our team as Duty Manager & PFSO. With his enormus operational experience as Floor Manager at Schiphol Airport, Charles is no stranger to the logistics/tourism industry and brings this knowledge and expertise…